Web browser and operating-system requirements
Use the information in this topic to view the list of supported browsers, cipher suites and operating systems for your server.
The IMM2 web interface supports the following web browsers:
Internet Explorer versions 8 through 11
Firefox versions 3.6 through 29
Chrome versions 13 through 35
The browsers listed above match those currently supported by the IMM2 firmware. The IMM2 firmware may be enhanced periodically to include support for other browsers. The following illustration displays the IMM2 login screen.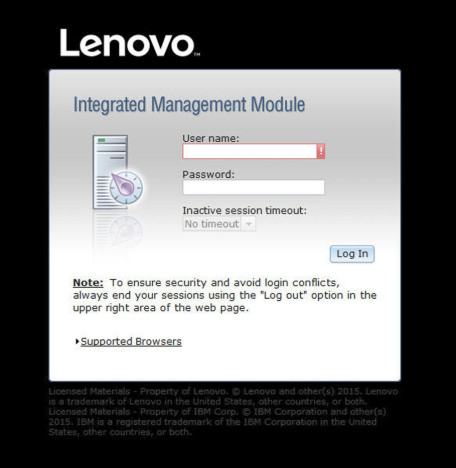 Depending upon the version of the firmware in the IMM2, web browser support can vary from the browsers listed in this section. To see the list of supported browsers for the firmware that is currently on the IMM2, click the Supported Browsers menu list from the IMM2 login page (as shown in the following illustration).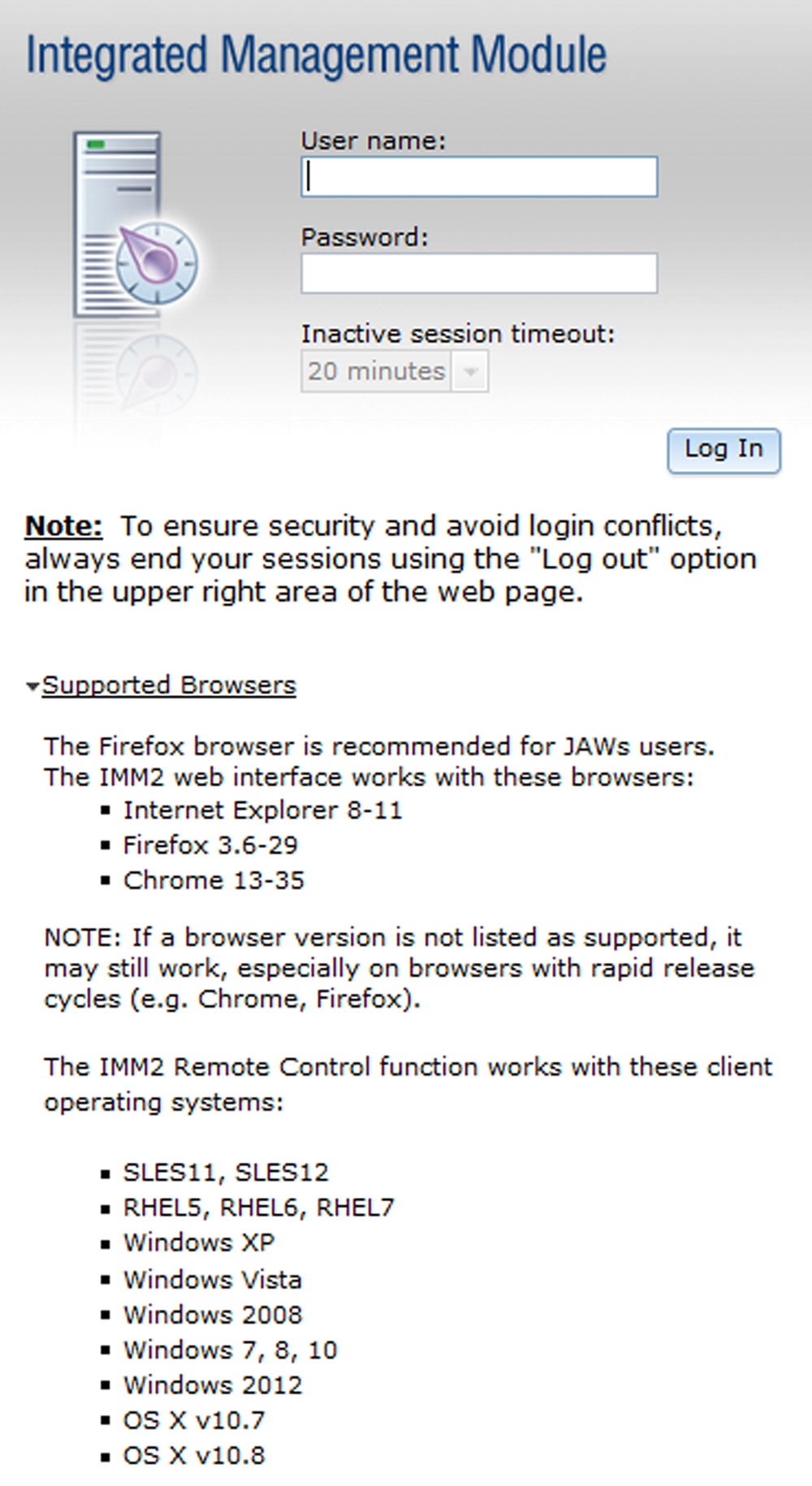 For increased security, only high strength ciphers are now supported when using https. When using https, the combination of your client operating system and browser must support one of the following cipher suites:
DHE-RSA-AES256-GCM-SHA384
DHE-RSA-AES256-SHA256
DHE-RSA-AES128-GCM-SHA256
DHE-RSA-AES128-SHA256
AES256-GCM-SHA384
AES256-SHA256
AES128-GCM-SHA256
AES128-SHA256
In addition to the above list of ciphers, the ciphers listed below are supported when the IMM2 is configured to use the Basic Compatibility cryptography mode:
DHE-DSS-AES128-GCM-SHA256
DHE-DSS-AES128-SHA256
DHE-DSS-AES256-GCM-SHA384
DHE-DSS-AES256-SHA256
ECDH-ECDSA-AES128-GCM-SHA256
ECDH-ECDSA-AES128-SHA256
ECDH-ECDSA-AES256-GCM-SHA384
ECDH-ECDSA-AES256-SHA384
ECDH-RSA-AES128-GCM-SHA256
ECDH-RSA-AES128-SHA256
ECDH-RSA-AES256-GCM-SHA384
ECDH-RSA-AES256-SHA384
ECDHE-ECDSA-AES128-GCM-SHA256
ECDHE-ECDSA-AES128-SHA256
ECDHE-ECDSA-AES256-GCM-SHA384
ECDHE-ECDSA-AES256-SHA384
ECDHE-RSA-AES128-GCM-SHA256
ECDHE-RSA-AES128-SHA256
ECDHE-RSA-AES256-GCM-SHA384
ECDHE-RSA-AES256-SHA384
The IMM2 Remote Control function works with the following client operating systems:
SUSE Linux Enterprise Server 11 (SLES11)
Red Hat Enterprise Linux Enterprise 5 (RHEL5)
Red Hat Enterprise Linux Enterprise 6 (RHEL6)
Microsoft Windows XP
Microsoft Windows Vista
Microsoft Windows 2008
Microsoft Windows 7
Microsoft Windows 8
Microsoft Windows 10
Microsoft Windows 2012
OS X v10.7
OS X v10.8
Your internet browser's cache stores information about web pages that you visit so that they will load more quickly in the future. After a flash update of the IMM2 firmware, your browser may continue to use information from its cache instead of retrieving it from the IMM2. After updating the IMM2 firmware it is recommended that you clear the browser cache to ensure that web pages served by the IMM2 are displayed correctly.
Give feedback