Switch block and jumper
The following illustrates locations and functions of the switch block and jumper on the system board.
Important
Before you move any jumpers, turn off the server; then, disconnect all power cords and external cables. Do not open your server or attempt any repair before reading and understanding the following information:
If there is a clear protective sticker on the top of the switch blocks, you must remove and discard it to access the switches.
Any system-board switch or jumper block that is not shown in the illustrations in this document is reserved.
Figure 1.

Switch block and jumper locations on system board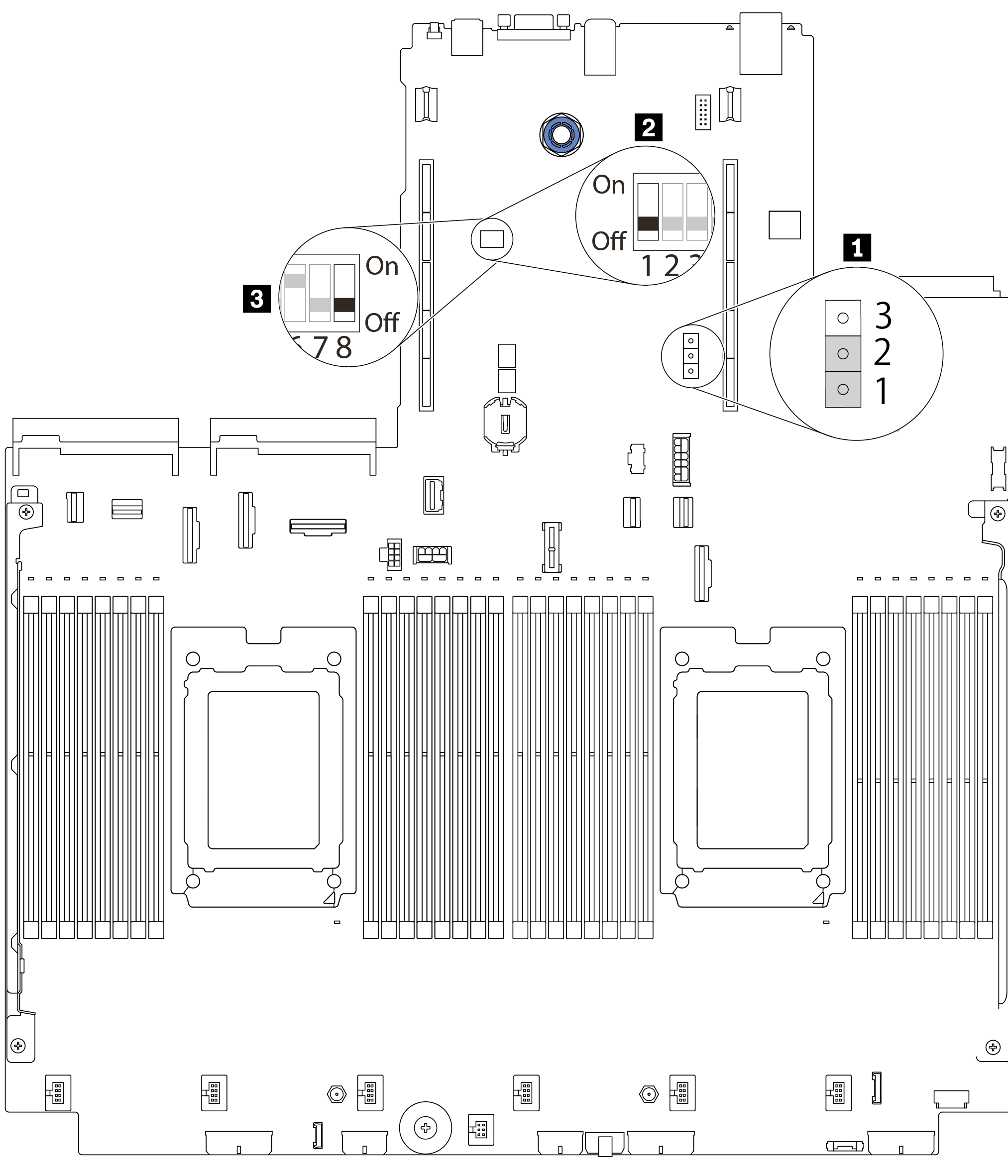 Table 1.

Switch block and jumper description
Switch/jumper name
Switch/jumper number
Description
1 Clear CMOS jumper
J1

Pins 1 and 2: The jumper is in default setting.
Pins 2 and 3: Clear the real-time clock (RTC) registry.

2, 3 Switch 1 block
SW1

Switch 1: One-time power-on password bypass

Toggle to ON or OFF to bypass the power-on password for one time. After bypassing the password, you can boot the server and set a new one in UEFI Setup interface.

Note

The switch cannot skip the privilege administrator password.

Switch 3: TPM physical presence status(Default setting: OFF)

Toggle to ON to assert host TPM physical presence, which is required for some security settings.

Switch 4: XCC force update (Default setting: OFF)

Toggle to ON to force XClarity Controller firmware to enter the booting mode (For development purpose only).

Switch 5: XCC SPI0 half ROM(Default setting: OFF)

Toggle to ON to force XClarity Controller to boot from a backup image.

Switch 6: Low security(Default setting: OFF)

Toggle to ON to enable low security mode for XClarity Controller firmware (For development purpose only).

Switch 2, 7, 8: Reserved
Give feedback