Remove the enclosure midplane
Use this information to remove the enclosure midplane.
About this task
S002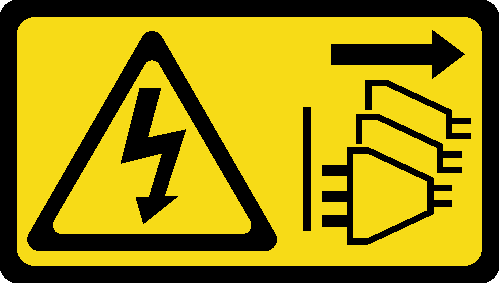 CAUTION
The power-control button on the device and the power switch on the power supply do not turn off the electrical current supplied to the device. The device also might have more than one power cord. To remove all electrical current from the device, ensure that all power cords are disconnected from the power source.
Attention
Read Installation Guidelines and Safety inspection checklist to ensure that you work safely.

Follow the following steps to shut down the solution.

Record the machine type model, the enclosure serial number, and retrieve the existing universally unique identifier (UUID) information from the enclosure midplane that you are removing. The procedure for obtaining this data might require different steps depending on the functional state of the enclosure.

Log onto the

Lenovo XClarity Controller

and access the command-line interface (CLI). You can access the

XCC

CLI through a direct serial or Ethernet connection to the

XCC

, or through a Secure Shell (SSH) connection to the

XCC

. You must authenticate with the

XCC

before issuing commands.
Query for the machine type model, enclosure serial number, and the UUID values by using the CLI info command. Record this information before you proceed.

Enclosure is not operating:

Obtain the enclosure serial number and the machine type model from one of the enclosure labels.
Record the enclosure serial number, the machine type model, and the UUID before you proceed.

Shut down the operating system and turn off any compute nodes in the enclosure. See the documentation that comes with the compute node for detailed instructions.

Disconnect all external cables from the enclosure.

Use extra force to disconnect QSFP cables if they are connected to the solution.
Watch the procedure
A video of this procedure is available at YouTube.
Procedure
Make preparations for this task.

Remove the top cover.

Loosen the three screws on the top cover.
Rotate the top cover outwards.

Figure 1.

Top cover outward rotation

Remove the enclosure midplane from an enclosure.

Unplug two drip sensor cables on the enclosure midplane.

Note

Make sure that you do not grasp the connectors on the enclosure midplane. You could damage the connectors.

Loosen two screws that secure the enclosure midplane to the enclosure.
Carefully grasp the enclosure midplane and slide it away from the enclosure.

Figure 2.

Enclosure midplane removal
After you finish
If you are instructed to return the component or optional device, follow all packaging instructions, and use any packaging materials for shipping that are supplied to you.