Install a simple-swap drive
Use this information to install a simple-swap drive.
About this task
S002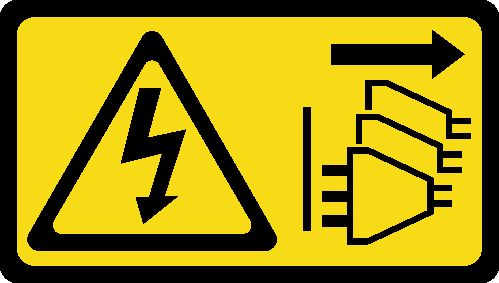 CAUTION
The power-control button on the device and the power switch on the power supply do not turn off the electrical current supplied to the device. The device also might have more than one power cord. To remove all electrical current from the device, ensure that all power cords are disconnected from the power source.
Attention
Read Installation guidelines to ensure that you work safely.

Power off the server and disconnect all power cords for this task.

Prevent exposure to static electricity, which might lead to system halt and loss of data, by keeping static-sensitive components in their static-protective packages until installation, and handling these devices with an electrostatic-discharge wrist strap or other grounding system.
The following notes describe the type of drives that your server supports and other information that you must consider when you install a drive.
For a complete list of supported optional devices for the server, see: Lenovo ServerProven website

The drive bays are numbered to indicate the installation order (starting from number "0"). Follow the installation order when you install a drive. See Front view.

The drives in a single RAID array must be the same type, same size, and same capacity.
Procedure
If the drive bay has a drive filler installed, remove it. Keep the drive filler in a safe place for future use.

Install the simple-swap drive.

Figure 1.

3.5-inch simple-swap drive installation

Ensure that the tray handle is in the open position. Align the drive with the guide rails in the bay; then, gently push the drive into the bay until the drive stops.
Close the tray handle to lock the drive in place.
After you finish
Install other drives or drive fillers if necessary.

Note

All the drive bays must be occupied. This means that each bay must have a drive or drive filler installed.

Close the security door; then, use the key to lock the server cover.

Check the drive activity LED on the front panel to verify that the drive is operating correctly.

| Simple-swap drive activity LED | Color | Description |
| --- | --- | --- |
| Solid on | Green | The simple-swap drive is active. |
| Off | None | The simple-swap drive is not active. |

Use the Lenovo XClarity Provisioning Manager to configure the RAID if necessary. For more information, see:

Complete the parts replacement. See Complete the parts replacement.
Demo video
Give feedback