Gap pad/Putty pad identification and location
Follow the information in this section to identify their shape, location, and orientation of the various gap pads and putty pads used in SD650 V3.
Installation Guidelines for gap pad and putty pad​
There are two types of thermal pads: putty pad and gap pad. When replacing components, always replace putty pad. Replace gap pad if it is damaged or missing.
Attention
The putty pad is unfit for use if the expiry date on its packaging has passed. Acquire a new putty pad for proper putty pad replacement procedure.
Gap pad/Putty pad identification and location​
Figure 1.

Gap pads and putty pads used in SD650 V3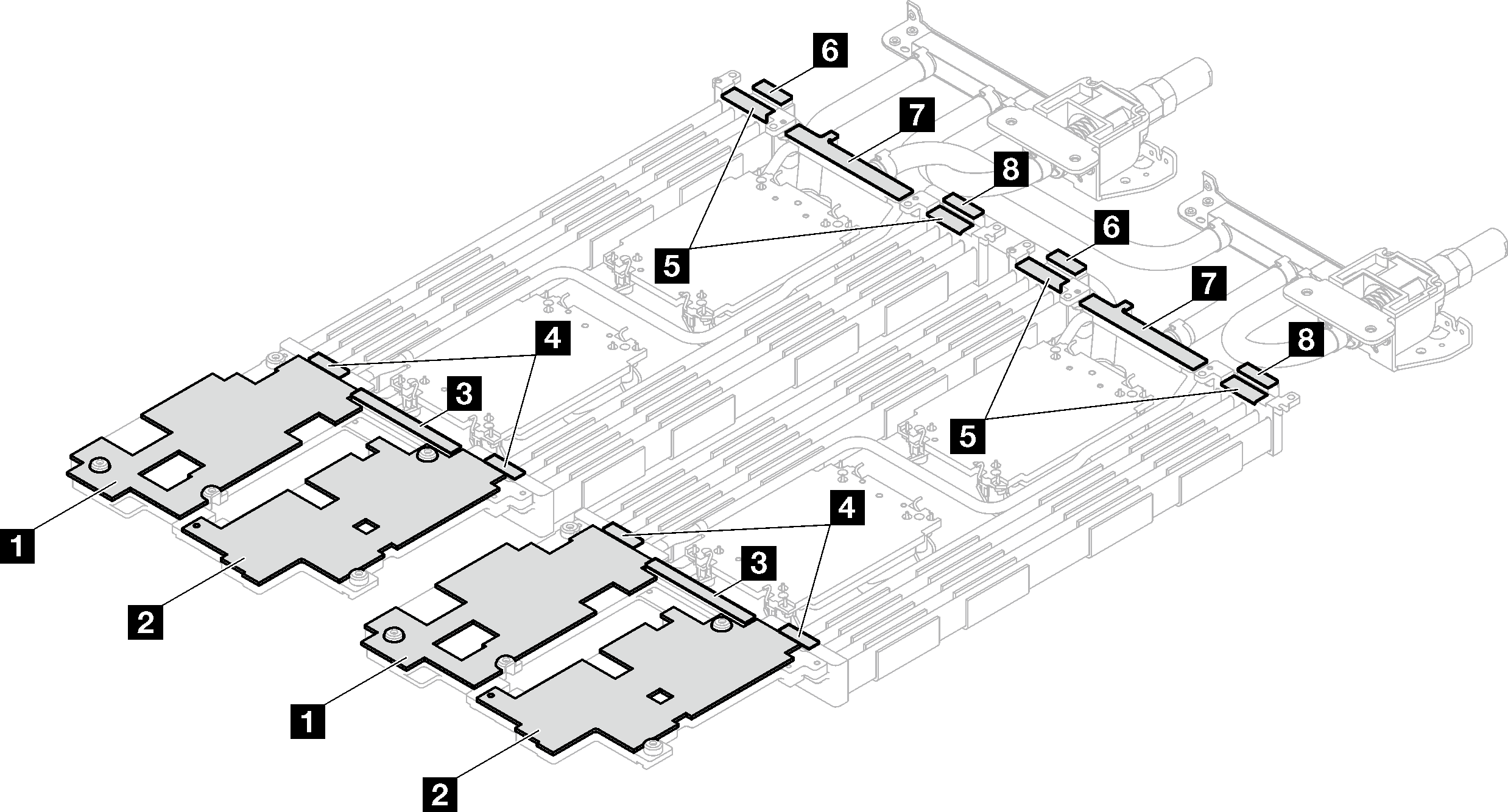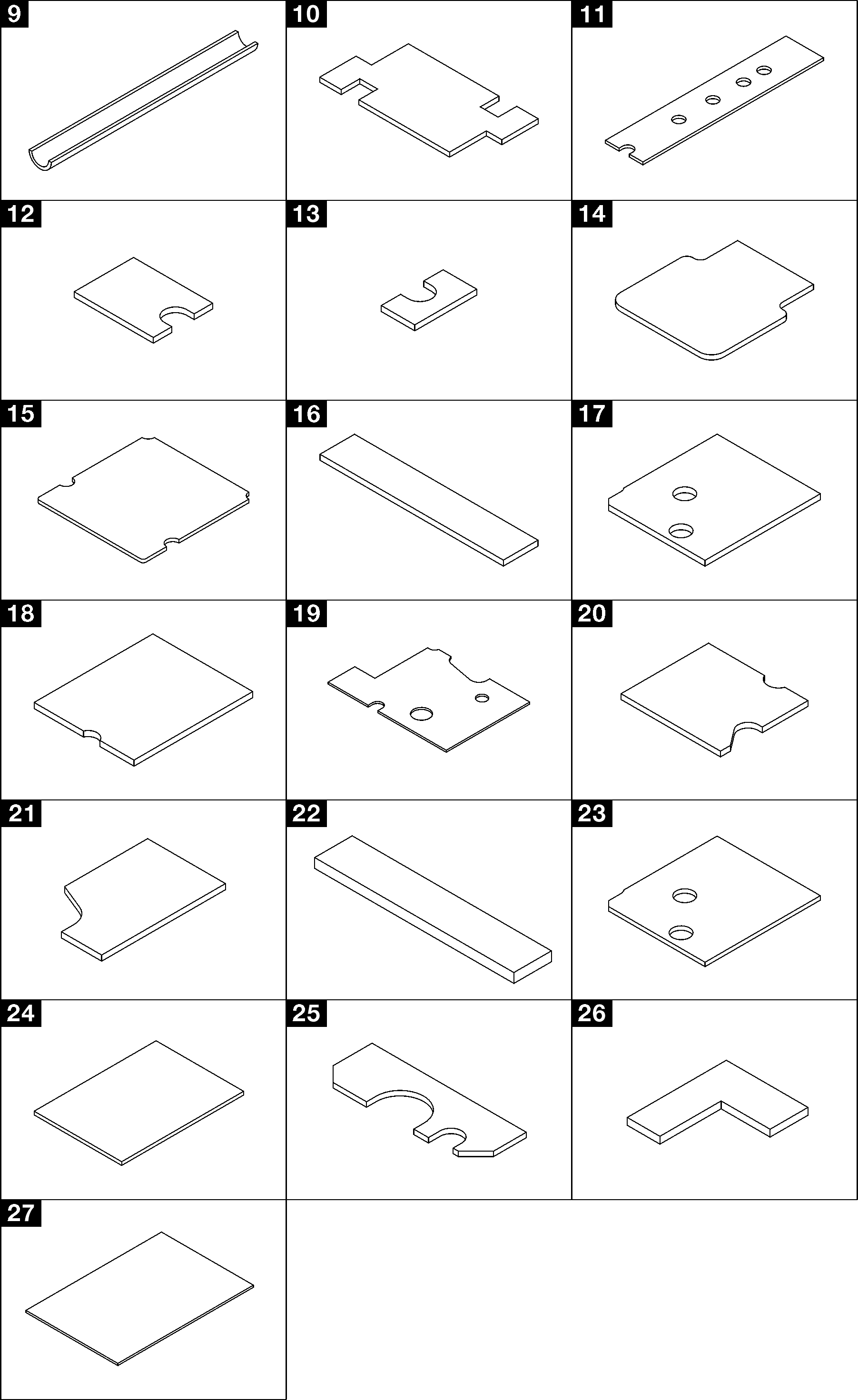 Table 1.

Gap pads and putty pads used in SD650 V3
Pad index
Pad category
Attached component
Pad orientation
1
Gap pad
Water loop
Gray side facing outward
2
Gap pad
Water loop
Gray side facing outward
3
Gap pad
Water loop
Gray side facing outward
4
Gap pad
Water loop
Gray side facing outward
5
Gap pad
Water loop
Gray side facing outward
6
Gap pad
Water loop
Gray side facing outward
7
Gap pad
Water loop
Gray side facing outward
8
Gap pad
Water loop
Gray side facing outward
9
Gap pad
VR water loop trough (installed on system board)
Gray side facing outward
10
Gap pad
VR water loop trough (installed on system board)
Gray side facing outward
11
Putty pad
M.2 backplane assembly
Align pad cutout to the screw hole and opening on the interface plate as shown in Install an M.2 drive.
12
Putty pad
M.2 backplane assembly
Align pad cutout to the screw hole and opening on the interface plate as shown in Install the M.2 backplane assembly.
13
Putty pad
M.2 backplane assembly
14
Putty pad
M.2 backplane assembly
15
Putty pad
M.2 backplane assembly
16
Gap pad
Drive cage
Gray side facing outward
17
Gap pad
Drive cage
Gray side facing outward
18
Putty pad
PCIe riser (ConnectX-6)
Align pad cutout to the screw hole and opening on the interface plate as shown in Install a PCIe riser assembly (ConnectX-6).
19
Putty pad
PCIe riser (ConnectX-7 NDR 400)
Align pad cutout to the screw hole and opening on the interface plate as shown in Install a PCIe riser assembly (ConnectX-7 NDR 400).
20
Putty pad
PCIe riser (ConnectX-7 NDR 200)
Align pad cutout to the screw hole and opening on the interface plate as shown in Install a PCIe riser assembly (ConnectX-7 NDR 200).
21
Putty pad
PCIe riser (ConnectX-7 NDR 200)