Install the server to rack
Follow instructions in this section to install the server to the rack.
S036
| | |
| --- | --- |
| | |
| 18 - 32 kg (39 - 70 lb) | 32 - 55 kg (70 - 121 lb) |
CAUTION
Use safe practices when lifting.
R006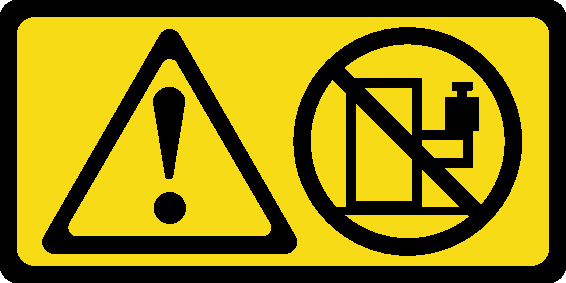 CAUTION
Do not place any object on top of a rack-mounted device unless that rack-mounted device is intended for use as a shelf.
CAUTION
Potential stability hazards exist. The rack might tip over and cause serious personal injury.

Before extending the rack to the installation position, read the Installation Guidelines. Do not put any load on the slide-rail mounted equipment in the installation position. Do not leave the slide-rail mounted equipment in the installation position.
About this task
Read Installation Guidelines and Safety inspection checklist to ensure that you work safely.

Power off the server and peripheral devices and disconnect the power cords and all external cables. See Power off the server.

Prevent exposure to static electricity, which might lead to system halt and loss of data, by keeping static-sensitive components in their static-protective packages until installation, and handling these devices with an electrostatic-discharge wrist strap or other grounding system.
CAUTION
Make sure to have three people operate the server installation procedures to prevent injury.
Firmware and driver download
: You might need to update the firmware or driver after replacing a component.
Watch the procedure
A video of this procedure is available at YouTube.
Procedure
From the front of the rack, pull the rails all the way out until they stop

Attention

You can only install the server successfully when the rails are fully extended.

Figure 1.

Pulling out the rails

Rack front

Carefully lift up the server with three people.

CAUTION

Make sure two or three people are lifting the sever by holding the lift points

Figure 2.

Lifting up the server

Rack front

From the front of the rack, install server into the rails.

Attention

You can only install the server successfully when the rails are fully extended.

Figure 3.

Installing the server into the rails

Rack front

Tilt the server and slowly lower its rear end; then, push the rails toward the server and make sure the farthest nailheads on server's left and right side go into the slots on the rail.
Slowly lower the server down and make sure the other 3 nailheads on server's left and right sides slip into corresponding slots.

Note

Inspect the sides of the rails to make sure the nailheads are placed in the slots.

Slide the server into rack.

Push up the latches on the rails.
Push the server all the way into the rack until both latches lock into position with a click.

Figure 4.

Installing the server into the rack

(Optional) Secure the server to the rack.

Install one M6 screw to each of the rails to secure the server to the rear of the rack.

Figure 5.

Securing the server to the rear of the rack

Rack rear

Secure the server to the front of the rack. Fasten the two thumbscrews located on the front of the server.

Figure 6.

Securing the server to the front of the rack

Rack front