Install the server to rack
Follow instructions in this section to install the server to the rack.
S036
| | |
| --- | --- |
| | |
| 18 - 32 kg (39 - 70 lb) | 32 - 55 kg (70 - 121 lb) |
CAUTION
Use safe practices when lifting.
S006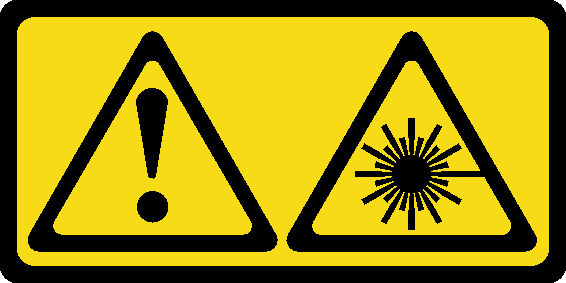 CAUTION
When laser products (such as CD-ROMs, DVD drives, fiber optic devices, or transmitters) are installed, note the following:
Do not remove the covers. Removing the covers of the laser product could result in exposure to hazardous laser radiation. There are no serviceable parts inside the device.
Use of controls or adjustments or performance of procedures other than those specified herein might result in hazardous radiation exposure.
About this task
CAUTION
Make sure to have three people operate the server installation procedures to prevent injury.
Firmware and driver download
: You might need to update the firmware or driver after replacing a component.
Procedure
From the front of the rack, pull the rails all the way out until they stop

Attention

You can only install the server successfully when the rails are fully extended.

Figure 1.

Pulling out the rails

Rack front

Carefully lift up the server with three people.

CAUTION

Make sure three people are lifting the sever by holding the lift points

Figure 2.

Lifting up the server

Rack front

From the front of the rack, install server into the rails.

Attention

You can only install the server successfully when the rails are fully extended.

Tilt the server and slowly lower the its rear end; then, push the rails toward the server and make sure the farthest nailheads on server's left and right side go into the slots on the rail.
Slowly lower the server down and make sure the other 3 nailheads on server's left and right side slip into corresponding slots.

Slide the server into rack.

Figure 3.

Installing the server into the rack

Push up the latches on the rails.
Push the server all the way into the rack until both latches lock into position with a click.

(Optional) Secure the server to the rack.

Install one M6 screw to each of the rails to secure the server to the rear of the rack.

Figure 4.

Securing the server to the rear of the rack

Rack rear

Secure the server to the front of the rack. Fasten the two screws located on the front of the server.

Figure 5.

Securing the server to the front of the rack

Rack front
After you finish
Demo video
Give feedback