Remove the Lenovo Neptune(TM) liquid assisted cooling module
Follow instructions in this section to remove the Liquid Assisted Cooling Module (LACM).
Important
This task must be operated by trained technicians that are certified by Lenovo Service. Do no attempt to remove or install it without proper training and qualification.
About this task
Safety information for liquid detection sensor module cable
S011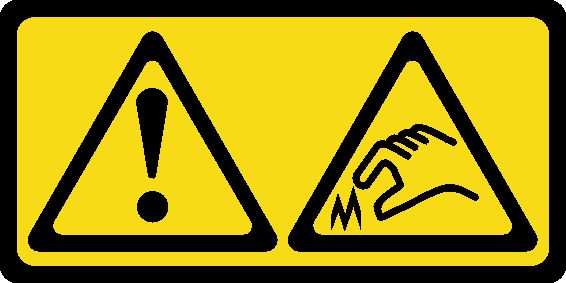 CAUTION
Sharp edges, corners, or joints nearby.
Attention
Read Installation Guidelines and Safety inspection checklist to ensure that you work safely.

Power off the server and disconnect all power cords for this task.

Prevent exposure to static electricity, which might lead to system halt and loss of data, by keeping static-sensitive components in their static-protective packages until installation, and handling these devices with an electrostatic-discharge wrist strap or other grounding systems.

If the server is installed in a rack, slide the server out on its rack slide rails to gain access to the top cover, or remove the server from the rack. See Remove the server from the rack.
Prepare the following screwdrivers to ensure you can install and remove the corresponding screws properly.
| Torque screwdriver type list | Screw Type |
| --- | --- |
| Torx T30 head screwdriver | Torx T30 screw |
Watch the procedure
A video of this procedure is available on YouTube.
Procedure
Remove the top cover. See Remove the top cover.

Remove the system fan 5 from the fan module.

Disconnect the pump 1 cable of the L2A module from the connector on the system board assembly. See Liquid assisted cooling module.

Re-install the system fan 5 into the fan module.

Align the four corners of the fan to fan module socket and put it down.
Press the fan latch down to ensure that it is plugged in the connector.

Disconnect the leak detection cable from the processor board, and route it out of the cable clips on the

liquid detection sensor module

holder.

Re-install the handle to the

LACM

.

Place the handle evenly on the

LACM

and align screw holes.
Tighten the screws. Ensure that the screws are secured in place.

Disengage the

LACM

from processors.

Fully loosen the Torx T30 nuts on the

cold plate assembly

and

radiator

.
Rotate the anti-tilt wire bails inward.
Carefully lift the

LACM

from the processor sockets by the handle. If the

LACM

cannot be fully lifted out of the socket, further loosen the Torx T30 nuts and try lifting the

LACM

again.

Place the

LACM

on the shipping tray.

If there is any old thermal grease on the processors and the cold plates, gently clean the top of the processors and the cold plates with an alcohol cleaning pad.
After you finish
If you are instructed to return the component or optional device, follow all packaging instructions, and use any packaging materials for shipping that are supplied to you.